How To Create AWS Free Tier Account
Amazon Web Services (AWS) is providing 12 months of Free Tier account to new subscribers.
Create a new account in AWS
First Open your web browser and navigate to AWS Free Tier Page
Click on the "Create a Free Account" button
The "Sign up for AWS" page appears.  provide your email, password and account name as shown below and got to next page
Select "Personal – for your own projects" option and provide your Name, Email, Phone no, Address. Please accept the terms condition of Amazon and go for next page.
Now "Billing Information" page comes. You have to provide

credit card information

to Amazon. You will be temporarily charged Rs 2 (for Indian origin costumers). It will reverted in 2/3 days. Move to next page
Now Payment page comes. Provide your password or OTP. It will redirect to "Confirm your identity" page
Provide your mobile no and select for SMS Option. You can also select "Voice call" option to get a voice call from Amazon and verify your identity.
Provide the received SMS code and continue to next step.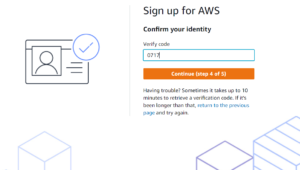 Select the "Basic Support -Free" plan and complete the Sign up process.
In next step choose the options as per your choice and complete the registration.
Now you can login to the AWS console using your login and password.