Relational Database Service
All relational DBs use Structured Query Language (SQL)
Best suited for OLTP (On Line Transaction Processing)
DBs are usually used in Enterprise applications/scenarios.
Amazon Relational Database Service is a distributed relational database service by AWS.
You can set up, operate, and scale a relational database in the AWS cloud.
It provides cost-efficient and resizable capacity
AWS will responsible to do hardware provisioning, database setup, patching and backups.
You only focus on your applications so you can give them the fast performance, high availability, security and compatibility they need.
Infrastructure Management
You are responsible for

Managing DB Settings
Building a relational DB schema
DB performance tuning

AWS is responsible for

Security and patching of the DB instances
Automated backups
Software updates for the DB engine
Multi-AZ with Synchronous replication between the active and standby DB instances
Automatic failover if Multi-AZ option
Providing the ability to create DB read replicas for DB read scaling
Supported Databases by AWS
Supported DBs

AWS Aurora
PostgreSQL
MariaDB
MySQL
MS SQL Server
ORACLE

Free Tier Details

12 MONTHS FREE
750 hours per month of db.t2.micro
20 GB of general purpose (SSD) database storage
20 GB of storage for database backups and database snapshots
RDS DB Instances
A DB instance is a virtual machine with database environment running in the cloud.
Can contain multiple user-created databases, accessed using the client tools and applications
DB instances created and modified with

AWS CLI
Amazon RDS API operations
AWS Management Console.

Each DB instance has a DB instance identifier and it must be unique for that customer in an AWS Region
DB instance classes and storage
The DB instance class determines the compute and memory capacity the instance
DB instance class types

Standard (balanced compute, memory, and networking)
Memory Optimized (memory-intensive applications)
Burstable Performance (burstable performance DB instance)

Amazon RDS storage types

General Purpose SSD – offer cost-effective storage that is ideal for a broad range of workloads
Provisioned IOPS – designed to meet the needs of I/O-intensive workloads
Magnetic – low performance
RDS Backup
Two types of backup for your RDS DB instances

Automated backups
Manual backups
Automated backups
Amazon RDS creates and saves automated backups of your DB instance.
RDS creates a storage volume snapshot of your DB instance, backing up the entire DB instance.
Backups are stored in Amazon S3
The first snapshot is a full one, and then subsequent snapshots are incremental
Retention period: AWS RDS keeps the automated backup for 7 days by default

Min 0 days (means no retention)
Max 35 days

RDS automatically backs up the DB instances daily, by creating a storage volume snapshot of your DB instance including the DB transaction logs

You can choose the Backup Window time
Enabled by default, you can disable it by setting retention period to zero

Transaction logs are backed-up by RDS every 5 minutes
Automated backups are used for point-in-time DB instance recovery
It can restore the DB up to 5 minutes in time using the DB transaction logs and the automated snapshot
During your daily backup window, your I/O may be suspended (for standalone RDS deployments)
For Multi-AZ deployment, backups are taken from the standby DB instance
Automated backups are deleted when you delete your RDS DB instance
Manual backups
Manual snapshot not used for point-in-time recovery
These snapshots stored in Amazon S3
They are not deleted automatically when you delete your RDS instance. You have to manually delete from S3
It is recommended to take a final snapshot before deleting your RDS DB instance
Can be shared with other AWS accounts directly
Amazon RDS Multi-AZ Deployments – Disaster Recovery
Amazon RDS creates a primary DB Instance and synchronously replicates the data to a standby instance in a different Availability Zone
Amazon RDS detects and automatically recovers from the most common failure scenarios for Multi-AZ deployments.
Amazon RDS automatically performs a failover in the event of any of the following happens

Loss of availability in primary Availability Zone
Loss of network connectivity to primary
Compute unit failure on primary
Storage failure on primary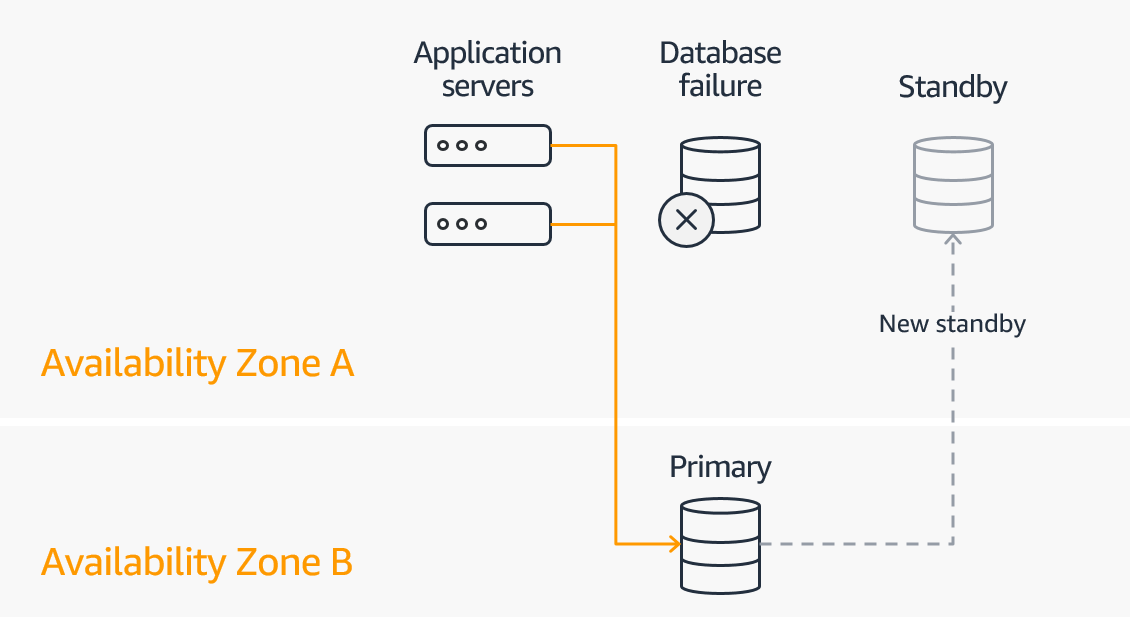 RDS Multi-AZ Deployments
You can select the Multi-AZ option during RDS DB instance launch or modify an existing standalone RDS instance
You can NOT read/write to the Standby RDS DB instance
You will be alerted by a DB instance event when a failover occurs. AWS RDS uses AWS SNS to send RDS events via SNS notifications
In Multi-AZ, snapshots and automated backups are done on Standby instance to avoid I/O suspension on Primary instance
Maintenance sequence of events in Multi-AZ:

Maintenance on Standby is performed
Standby promoted to Primary
Maintenance performed on old primary (Current Standby)
DB Read Replicas
RDS Read Scalability
A read replica is a replica of the primary RDS DB instance that can only be used for read operation
Asynchronous replication. Reads are eventually consistent
Read replicas are available in Amazon RDS for MySQL, MariaDB, PostgreSQL, Oracle, and SQL Server as well as Amazon Aurora
Within AZ, Cross AZ or Cross Region
Read replicas are used for SELECT

not INSERT, UPDATE, DELETE

Shifting read intensive applications such as Business reporting, or Data Warehousing to read from read replicas as opposed to overload the primary DB
RDS Read Replicas – Use Cases
You have a production database that is taking on normal load
You want to run some analytics on your data
You create a Read Replica to run the new workload there
The production application performance is unaffected
Amazon Aurora
Aurora is a RDS from AWS (not open sourced)
Aurora database build on top of Postgres and MySQL
Aurora is AWS optimized and claims 5x performance improvement over MySQL and 3x over Postgres
Aurora storage automatically grows in increments of 10GB, up to 64 TB.
Aurora can have 15 replicas while MySQL has 5, and the replication process is faster
Aurora costs more than RDS (20% more) – but is more efficient
Amazon Aurora DB clusters
An Aurora cluster volume is a virtual database storage volume that spans multiple AZs, with each Az having a copy of the DB cluster data.
Primary DB instance

Supports read and write operations. Each Aurora DB cluster has one primary DB instance.

Aurora Replica

Can have up to 15 Aurora Replicas.
Maintain HA by locating Replicas in separate AZs.
Automatically fails over to an Aurora Replica in case the primary DB instance becomes unavailable.
Features of Aurora
Automatic fail-over
Backup and Recovery
Isolation and security
Industry compliance
Automated Patching with Zero Downtime
Advanced Monitoring
Routine Maintenance
Backtrack: restore data at any point of time without using backups